Jurassic World: Dominion Dominates Fandom Wikis - The Loop
Play Sound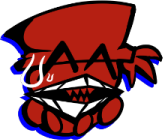 Work In Progress Mod
ARE YOU CRAZY? I'M WORKING!! - Mot Pag
---
This mod contains in-development content that is subject to change. The contents of the mod may not be present in the final result.
Not to be confused with Template:Stub

Reason: The reskin currently goes up to Phase 3. Expurgation hasn't been reskinned yet.

Were you looking for the most popular Tricky the Clown?
Or Friday Night Madness' Tricky?
Or Friday Night Funkin' ONLINE VS: Hank Challenge Tricky?
Classic Tricky is a skin mod created by Sassy_EX. It reskins Tricky so that his appearance matches that of the original Madness Combat series. The notes are also reskinned, being different shades of black, white and grey.
Trivia
During Hellclown or Phase 3, the reflective shading on Boyfriend, Girlfriend and Hank is now white instead of red since Demon Tricky uses his original appearance from Madness: Consternation, in which he was white.
Gallery
Download Link
Characters
Swap
Anthro Doggo -

BF And GF

- Vs. Girlfriend -

Monster BF

-

Monster Pico

- Mad Senpai - Monster and Humanized!Spirit - Pirate Monster - Pulp - Romantic Boyfriend -

The Spookalgamate

- Tall Boyfriend (BossSwagMaster) - Inside-Out Boyfriend - Christmas Girlfriend - GF Legs - Doge/Shiba Inu Girlfriend - Happy Pico - BF over GF - Rapper GF - Crazy Girlfriend - Angrier Senpai - Lia - Mia - Kia - Stalker Girl - Carlos - Reanimated Boyfriend (ZERO - FreshWoomy) - BF X Pico - Mermaid Girlfriend - Playable Minus GF - 2VPLUS Senpai - Senpai / Spirit HD - Lemon Angel - Smol Monster - Photoshopped BF - Monster Neeko - Playable Tankman - Pixel Tankman - Pixel Pico - Impostor Boyfriend - Toadico - Festive BF - Happy Boyfriend
Relatives
Boyfriend's Dad - Boyfriend's Mom - Ritz - Hatsune Miku (bbpanzu) - Big Brother - Big Sister - Older Bro - Baby Blue Brother - Beach Brother - Cassandra - Sister Searest - Lila - Corrupted Lemon - Lemon Sister
OC

Whitty

(

Fun Sized

) - Updike - Julian - Nitty - Hex ( Fun Sized - GF) -

IRIS

- Carol - Annie ( Legacy) - Dalia - King ( lagoAnims - tictacto) - Ayana - Tabi - Sky - Sunday - Sarvente ( Remaster - Young) - Ruv ( Remaster - Fun Sized) -

Selever

(

Remaster

) - Garcello (Minus)- Salty -

Blueberry

- Jester - Bob - Ron ( 3D) - Little Man - Retro - Sakuroma - Xe - Ruria - Detra - JTC - Snarts - Randy -

Fuego

- Mike - Macy - Kazuki - Gumi - Brightside - Parasite - Omega - Bowie - Plate - Sketchy ( Redrawn) - Pompom - Mackie - RidZak - Cybbr - Shroom -

Static

-

Myra

-

Singe

-

Sear

-

Vetar

-

Kosten

-

Wren

- A.G.O.T.I. -

Aldryx

- Solazar - Nikusa - Lune - Xyn -

Corrupt

- Fire - Kaleigh - Feri - Flexy - The Merchant - Demetrios -

Anders

- Alex Bird - Red - Kapi - Kauan - Lexi - Abigail - Emmi - Fluffy the Hellcat - Subject 93 - Noke - CJ - Ruby - Bob - Bosip - Luxus - Frog Man - Anchor - Roro - Alya - Suvarna -

Grunko

- Berzerk - Displo - Kou - GSU -

Clownso

- Zipper - Ignis and May - Starecrown - Dilune - Ghost Twins - Katelyn - Cye - Yukichi - French Fry Guy - Reaper - Melty - Kiya - Xigmund ( Hotline 024) -

Tree

- Duck - Alfie - Watermelon the Cat - Kastimagina - ASCII - DJ Hallyboo - Flatline - Onek - Cyrix - Dr. Jack Springheel -

Cyber Alula

- Filip - Rosie - Mel - Bana - Peri - Tac - Lucian - Abby - Nick - Animated Ball - Yoma - Goves - Hell - Beegie - Usagi - Boo ( 'Hotline 024) - Boo Queen - Beepie - Lexi - Olivia - QT - KB - Void - Momi - Loki - Ashtoreth - Showcaster - Fizz - Cupid - Fueg0 - Poly - Valerie - Violet - Cloud - Door - Adam - Cosby - Spong - Shuri - Ken - Javier - Cream - Richard Gyro - Jay - DOXXI3 - Troyr - Ghost - Novanomikon - Funk - GameBanana User - Fridge - Stickman - Printer - Grass Block - Toxic Hater - Tom Stuart Oliver - Mike de la Quenelle Connor III -

Rose Angel Oliver

- Smoky - Kai - Umball - Arwin - GB - HELLBREAKER - Theo Parker - Shorty Collins - Raquel Vasquez - Minji Kim - Mighty.ZIP - Nikku - Gogo - Momo - Rude#1 - Matzushii - Clips
Newgrounds
Tricky (Classic Tricky) - Tricky Phase 0 - Tricky Phase 5 - Hank J. Wimbleton ( Online Vs.) - Sanford - Deimos ( Aggregation - MashProTato) - Jebus (Latexify - SMc5) - The Auditor - Mag Agent: Torture - Romp - Scrapeface - Hotdog Vendor - Director Phobos -

ENA

(Senpai - Hotline 024) -

Moony

-

Shepherd

(

Supercario

) - Auctioneer - Brick Frog - Darnell - Cassandra - Nene - Piconjo -

Cassette Girl

- Tord ( Legacy Edition - Online Vs. - Matt Gets Trolled) - Tom (

Online VS.

- Matt Gets Trolled) - Edd ( Spider_Thiago - Online Vs.) - Matt ( Full Week - Matt Gets Trolled) - Eduardo ( Online Vs.) - Clones - Future Edd - Henry Stickmin - Phil Eggtree - Venus and Eve - Sigma - Salad Fingers - Steve - Fancy Pants - Geo - Ami Ami (lisaimai)) - Stan
Gaming
Zardy (Fun Sized) - Cablecrow - Monika ( HD - Hotline 024) - Sayori ( NEONVORE) - Natsuki - Yuri ( Hotline 024) -

Rayman

- Mario - Peach - Yoshi - Hypno - MissingNo. - OVA Sonic - MCSonic - Sonic The Hedgehog - Omochao - Majin Sonic ( Boss Rush) - Mazin Sonic- Tails Doll - MX - Coronation Peach - Lord X ( Chaos Series) - Alan - Roblox Noob - Cheeky - Violastro - ViolastroBot - Reimu Hakurei -

Rumia

- Sakuya Izayoi (BlackTiger2000 - ) -

Flandre Scarlet

- Athena Asamiya - Athena - Freddy Fazbear - Bonnie The Bunny - Chica The Chicken - Foxy The Pirate Fox - Yellow Bear - Withered Freddy -

Mangle

- The Puppet - Shadow Freddy - Springtrap - ( Funkin' At Freddy's - ) - William Afton - ( Funkin' At Freddy's - ) - RWQFSFASXC ( Funkin at Freddy's - ) - Michael Afton -

Funtime Foxy

-

Lolbit

- Glitchtrap - Vanny - Sunrise - Moondrop - Map Bot - DJ Music Man - Cuphead - The Devil - Bendy ( Indie Cross) - Ink Bendy - Sammy Lawrence - The Goose - Baldi ( Baldi - Baldi (Basics In Funkin')) - Mono - BEAR - Frisk - Chara ( SnowTheFox - Hexar) - Sans ( LiterallyNoOne - TheLunar27- Susususus - Indie Cross) - Papyrus ( Indie Cross) - Dust Sans - Mettaton - Kiryu Kazuma - OMORI - AUBREY - SPACE BOYFRIEND - Matt - Liz - Lane - Neon - Dark Matter -

Queen Sectonia

- Vibri - 1010 - Default Boy - W.D. Gaster - Captain Viridian - Hat Kid ( Lads In Hats - Kokoro Hatsaru) - Fred The Frog - Watergirl - Fireboy -

Davoth

-

Doom Slayer

(

Manlet

) -

Mae

-

Angus

- Maid in the Mist - Peashooter -'Sunflower - Mr. Game & Watch - Banjo - Ross - Bubbles - K.K. Slider - Ankha - Monokuma - Reporter - Brainwashed Callie - Hatty Hattington -

Brad Armstrong

- Hart - MC. Ballyhoo - Despacito Spider - Mayday - Kalisa - Chess Choco Cookie - Tiger Lily Cookie - Fire Spirit Cookie - Isaac - Crewmate ( Purple - Tomongus ( Hotline 024) - Mat - Sophie - Zachie - Banana - Yellow) Impostor ( Red - Green - Black - Tan) - Whisper - Komasan and Komajiro - John Bomb - Nadeko Sengoku - DJ Sray - Ralsei - Olivia - The Devourer of Gods - Major Burrows - Scary Larry - Human - Ragdoll - G-Man - Interactive Buddy - Despacito Spider - Yummers - The Overlord - Huggy Wuggy - Crash Bandicoot - Peashooter - Gattling Pea - The Toons - Relapsed Suicide Mouse Beta Luigi - Hu Tao - Xingqiu - Venti - Felix y Het
Animation
X!Chara' - Ink!Sans - X!Gaster - Betty Noire - Saness - Lewis Pepper - Caleb Lightpaw -

Pelito

- Peludo - Mami - Ryuko - Spinel - Peridot - Lapis Lazuli - Jasper - Hilda - Gelatin - Flippy ( j0nnytest) - Daisy - Eric Cartman - Loona - Pinkie Pie ( Elements of Insanity - Dusk Till Dawn) - Flutterguine - Starlight Glimmer - Garfield - Zoe Trent - Mr. DoucheBag - Oswald ( Sunday Night Suicide) - Shaggy - JFK - Rolf - Possessed Amy - Snap - Spongebob SquarePants( Bikini Bottom) ( Squidward Tricky) - Patrick Star ( Bikini Bottom) - Squidward Tentacles - Benson Dunwoody - Jenny Wakeman - Homer Simpson - SMG4 Mario - Bob Bobowski - Melony - Tari - Belle - Marvin the Martian - Firey - Four - Biggie Cheese - Phineas & Ferb - Sasha Waybright - Anne Boonchuy (CartoonMarcyLove)- Marcy Wu - Luz Noceda - Eda & King - Dr. Robotnik - Suction Cup Man - Ood - Woody Woodpecker - eteleD ( Boss Rush) - Austin - Racist Mario - Secret Histories Mario - LDO Mario - LDO Luigi - Speedrunner Mario - Red Mist Squidward ( Mistful Crimson Morning) - Peppa Pig - Homer Simpson - Chuck & Sneed - Consolezord - Charlie - Pim - Julian - GameToons Suicide Mouse Felix The Cat - 'Secret History Tails ('Sonic.Exe) - 'Secret History Sonic - 'Secret History Knuckles
Literature
Fleetway Sonic - Fleetway Super Sonic ( Chaos Series) - Saxton Hale - Greg Heffley - Rodrick Heffly - Susan Heffley - Nate Wright - Jotaro Kujo (and Kakyoin) - DIO - Josuke Higashikata - Giorno Giovanna - Bruno Bucciarati - Guido Mista - Narancia Ghira - Panacotta Fugo - Trish Una - Diavolo - Doppio - Squalo and Tiziano - Cioccolata and Secco - Chariot Requiem - Johnny Joestar - Gyro Zeppeli
Internet Personas

Rebecca

- 8-BitRyan ( Boyfriend) - Kubz Scouts - Dawktrap - Shyrell - StickyBM - Nostalgia Critic - Ninjamuffin - Vase - Nonsense (but real irl) - XOXO - Aflac - Blu - Mini - JGhost - Cerberus -

Verbalase

- RetroSpecter - Ace ( Fun-Sized) - NDXL - Anthem -

Cerbera

- Anthem - Wilbur Soot - Kimiri - Skeppy and BadBoyHalo - Fernando Bro Games - Cesar Fever - Blantad - Neonight - Sharv - Lylace - Swirl - Cheese - Camellia - Ethan - Faradey - Sly - Nathaniel Bandy - Piccohoe - Dani - Hiro-tan - Codist - Jerry-The-SMG4-Fan - SonaDrawzStuffYT - AlizaBunn - Merg - Nihhiu - Scott Wozniak - BBPanzu - Arm4GeDon - Taeyai (Minus) - Cval - KadeDev - Caddicarus - C0rruptzie - KiwiBurd - UniqueGeese ( B-Side - Neo - Hellbeats - Corrupted - Minus) - MatPat - Scott Cawthon - Loggo - Clowfoe
Internet Culture
Slenderman - Jeff The Killer - Gold - Sonic.EXE - (Minus) - Soul Tails - Soul Knuckles - Soul Robotnik -

Fatal Error

- Sunky.MPEG - Sanic.EXE - NeedleM0use - Coldsteel - Sink - Mario.EXE - I HATE YOU Luigi - Wario Apparation ( Mario's Madness) - Anti-Piracy Mario - L is Real Luigi - Grand Dad - Mr. Virtual - Stanley - Suicide Mouse - ( Wednesday's Infidelity, Mouse, Craziness Injection) - Satan - Alt Suicide Mouse - Costume - Beelzebub - He Needs To Eat - Macabre Experiment Mouse - Suicide Squidward( SpongeBob Media, Mistful Crimson Morning) - Sponge.avi - Herobrine - SpingeBill - Trickward - Catastrophe Crow - Ronald McDonald - Polar Bear - Cartoon Cat - Trollface - Jack Stickman - Mope Mope - Trollface/Trollge - John_Piss - A Bunch Of Mod Makers) - Blueballs Incident Trolls - Anonymous - Weegee - Sanic - Chrome Dino - Tiky - IRL Senpai - /v/-tan - Cancer Lord - Yotsuba Koiwai - MLG-Tan -

Dead Peashooter

-

Carmen Winstead

- Chikn Nuggit - Cheezborger - Iscream - Sody Pop - Slushi - Cofi - Fanon!Chara - - Normal SpongeBob- - Bold & Brash - Skitzo The Bear
Other
FL Chan (2022) - Mano Aloe - Ninomae Ina'nis- Marina - Michael Jackson - Lucky Boy - Kasane Teto - Beastie - Toilet - Dust Sans - Picardia - Baby - FireIce - Master Gracey - Among Dream - Withered Toy Sonic- Bonzi - Simone - Proto Boyfriend - Cheddar