We're Getting Mutants in the MCU - The Loop
Play Sound
Warnings: Spoliers, Flashing Lights, Loud Sounds, Unsettling, Mature Content, Screen Shaking.
Notices: Copyright, Large Page, Joke Content, Upcoming Content, Placeholder Used, Outdated.

Funkin' Against The Anomalies is a mod dveloped by the Studio Gate Team

where Boyfriend goes up against various dimensional anomalies.
The full mod is currently in development with no planned release date, however, as of now, 2 demos have been released. The first one contains the old versions of Starecrown's and Fred's weeks. And the second one has the remastered version of Starecrown's first song.





















Characters
Due to very large byte size, the character pages have been moved to their own separate article.
See Funkin' Against The Anomalies/Characters
Library
Due to very large byte size, the library has been moved to its own separate article.
See Funkin' Against The Anomalies/Library
A.D.A.L.
Overview
The Anti-Dimensional-Anomalies-League (ADAL for short), is an organisation founded centuries ago by Kastro Criador with the purpose of containing and studying all dimensional anomalies out there. It's a concept similar to the SCP Foundation. The lower ranking ADAL memebrs are tasked with seeking out an anomaly that the higher-ups assign to them. The higher ranking members, such as Criador and Nada, have the responsibilty of maintaining and keeping the facilities in order. Sometimes they will seek out an anomaly on their own too.
Headquarters layout
The ADAL is organised in a completely remote location, being easier to manage that way and is comprised of one giant headquarters facility, with multiple smaller bases scattered around. The smaller bases serve as little camps/shelters for the ADAL workers. The main headquarters functions as a sort of giant house. The first floor of the facility is the main area and houses a variety of stations and rooms. On the second floor, offices for each ADAL worker can be found. And lastly, the third floor contains rooms for every worker as well as other necessary thing such as a kitchen/dining room, bathrooms etc.
Anomaly Capturing and Containing
The ADAL uses a vareity of tools in order to neutralize any anomaly it pursues, with a notable part of their arsenal being fly traps.[1] Once said anomaly is successfully neutralized, it is transported into a special containment cell. The cell in question is cube-shaped, made out of a glass that has been tested to be indestructible. The cells also have small items in them, personalized for each anomaly. However, the ADAL members make sure that every cell is inescapable. Additionally, the containment cells also remove the special powers of the anomaly inside it. Depending on the size and power level of the anomaly, diiffrent equipment and tactics may be used. Nada is the one in charge of planning how an anomaly is neutralized and captured. ADAL members are allowed inisde the containment cells in order to make sure the anomalies are behaving properly, however, entering the containment cell of an anomaly is a very dangerous procedure, coming with the risk of potentially dying. Additionally, the ADAL makes sure that no anomaly is suffering in their containment cell, even if they deserve it.
Security System
The ADAL is very serious when it comes to its security systems. Many surveillance cameras are placed throughout the inside and outside of the ADAL HQ. They also use security lasers and many other measures. Widen is the one in charge of ADAL security, making sure everything is under control.
Known Members
Anomaly Executions
If an anomaly is deemed too dangerous to live, the members of the ADAL can choose to simply kill it, ensuring that it won't cause them any problems in the fututre.[2] The preparation requiered for executing an anomaly of this kind is lengthy, with most of the time attributed to actually setting up the method in which said anomaly will be killed. This can range from specially designed weapons to something else entirely. However, even though they eliminated an anomaly with immense power which could have caused serious damage to everything around it, the memebrs of the ADAL do feel guilty about their actions after every execution.[3] In the rare event that an ADAL worker is found to be an anomaly in disguise, said anomaly won't be executed. Instead, it would be fired and would have to cut all ties with the ADAL. It will only be killed if it mentions anything about its experience working at the ADAL.[4]
Recruitment
There are no specific qualifications needed in order to become an ADAL member. The way a member is recruited is via an interview. After the interview, if successfully hired, the member will then shortly be assigned a role in the ADAL. The main positions are anomaly hunter, anomaly keeper, anomaly researcher etc. A member must be 21 years or older in order to join the ADAL as drinking parties are sometimes hosted.
Risk Level
Working for the ADAL can be a dangerous job. On a scale of 1 to 10, the avreage risk level of an ADAL worker is around a 6 or 7. Though this can always change, as it can sometimes even reach 9 if Criador had a bad day. The sector that has been assigned to an ADAL worker also contributes to their risk level.[5]
Known Incidents
EVD-34500

R-634 attacked ADAL member Pariline Bridgette. Bridgette suffered serious injuries from the attack and was taken to a recovery center.

Unnamed incident involving

R-1550

and

R-1551

R-1551 was placed in a diffrent containment cell from R-1550, which caused 1551 to go feral from separation anxiety, causing havoc in the ADAL HQ. 1551 was eventually recontained and placed in the same cell as 1550, though a lot of damage has been dealt in the process. Notably, ADAL member Tish's fingers were ripped off by 1551 during this incident. It has been decided from then on that R-1550 and R-1551 are to be contained in the same cell at all times.

Unnamed incident involving

Widen

and an unidentified anomaly.

While pursuing an XXXX-level anomaly, ADAL member Widen suffered a major cut across her stomach. She spent a month in a recovery center.[6]
Anomaly Dex
Overview
The Anomaly Dex is the ADAL's encyclopedia containing information about various anomalies. Entries here are written by ADAL members as part of their study on these entities. Usually, only the higher-ranking ADAL members have permission to write and modify entires, but sometimes lower-ranking memebrs can also contribute with whatever info they have. For every anomaly recorded on the dex, Nada makes accompanying skecthes for the respective anomaly in order for everyone to get a better understanding of how it looks. Pariline also contributes somewhat with anomaly illustrations.[7]
Classes
The anomalies recorded within The Anomaly Dex are ranked in five classes or levels. These go from X to XXXXX, with XXXXX being the highest, most dangerous level.[8][9]
Entries
R-634 / R-634-A
Entry:
R-634 is a Large Figure which seemingly to be identical to that of R-1550 but Larger. The Figure seems to have purple flesh but its facial features differ as its whole face is a light gray with rose red cheeks, it seems R-634 has somewhat of a Clown aesthetic as it wears a Fool's cap and a fake red Clown nose. We are unsure what R-634 looks like up close as the dangerous anomaly has had multiple events in the EVD-34500 incident, where R-634 attacked a Co-Worker Paril Bridget, Female 5'11. When she got too close to R-1778, She luckily escaped but serious injuries were found, however she was sent to a recovery center. R-634 is estimated to be about 18-20 feet in height, Though it can be seen changing its size to vary. R-634 is seen with R-1778 and R-1777 throughout many of our staff's inspections. It act's as some sort of protector as R-634 get's Extremely agitated when it or R-1777 and R-1778 get approached as seen from the EVD-34500 incident. R-634 has many abilities seen from staff such as: Teleportation, Portal Creation, Body Mutation/Morph and Other abilities that are more unique to our foundation such as pinataphication where R-634 seems to change it's victims Genetic Makeup drastically slowly and painfully turning said target to a living pinata otherwise known as R-634-A The Pinataphied victim is somewhat conscious but it seems that their insides have completely melted and turned into candy. R-634-A does not act sentient during night time, however during the morning-evening it acts as a farm animal making a "peeping" sound like a baby Chick. R-634 seems to use this method of hunting for food or as a weapon. R-634 also has venom glands which are attached to its fangs and will act like hypodermic needles. When a R-634 bites, muscles in its head squeeze the venom glands. This pushes the liquid through its fangs muscles in its head squeeze the venom glands. This then pushes the liquid through its fangs and into the flesh of its prey. The venom also can flow through its saliva and any bodily fluids it has, yet it is less severe then what it's venom Glands may have in its fangs. On a related note R-634 has seen feeding R-1778 it's own teeth, its seems to act as some sort of anesthesia, which has a less effect of it's powerful venom. More updates come soon This Anomaly is extremely dangerous.
Danger Rating:
XXXXX
Assesment:
AVOID AT ALL COST
Yours Truly,
Nada.

R-1550
Entry:
R-1550 appears to be a large purple entity wearing yellow robes and wielding a large crown of the same coloration. The most distinguishable feature of this anomaly are its bulging eyes and lack of any legs. More observation is needed.
Danger Rating:
XXXXX
Assessment:
Being a D-XXXXX, it is clear to all that this inter-dimensional anomaly is beyond dangerous and should be avoided at all costs.
Yours Truly,
Nada.

R-1551
Entry: ???

Danger Rating: XXXXX

Assesment: ???

Written By: ???

Note: Note to self, keep 1550 and 1551 contained together or else all hell breaks loose. We learned this the hard way.[10]
Addendum 1A
Conversation between

Tish

and an unidentified ADAL member after an incident when

R-1551

was separated from

R-1550
???: So... what exactly happened when those two were separated? Was it that bad?
Morticia lifts up her hand to show her missing fingertips
Tish: Well, this happened for one thing. Also a whole lotta property damage. I just got unlucky and the little one bit me.
???: Tish, 1551 is taller than you-
Tish: Shut-
???: You got bit. By a tv. Your fingers were amputated...by a tv.
Tish: No one ever said this job made sense...
???: how does a tv bite-
Tish: I have no clue how he does it, but he's able to eat and drink like any normal person. Crunching on fingers like a friggen furby included, apparently.
Addendum 2A
Conversation between

Tish

and

R-1551

after the aforementioned incident where

R-1551

was separated from

R-1550
R-1551: Wait...I did that?!
Tish: Yeah.. for being so cute and cuddly, you're a tough cookie!
R-1551: oh my god.. were they not able l-like.. reattach your fingers..?
Tish:
never recovered em, so who knows
R-2351
Entry:
R-2351 Is a mass made up of an unidentified cyan material. It seems to use 2 Bright green ovals on its upper head region for eyes. R-2351 doesn't appear to be hostile, but it is still capable of causing serious destruction. R-2351 Is able to shift its body around at will, and can stretch, bend, and squash infinitely. Its arms are capable of cutting large objects such as trees, cars, and full on walls in half with ease. It is unknown how R-2351 will react when it is provoked, so please exercise caution if near it.
Danger Rating: XXX


Assessment:
 ???

Yours Truly, Nada.

Gameplay Mechanics
In the remastered version of STARE, Starecrown will occasionally jumpscare the playing by making the screen pitch black while a very disturbing, front-facing close-up of him appears onscreen.

When this happens, Boyfriend also loses health.
In the old version of STARE when Starecrown screams Boyfriend will lose over half of his health bar.
After that a circle of eyes will pop up on the player's note side at random.
The note strums are completely gone at some parts of Staredown and Body Inversion however Boyfriend doesn't have to sing when that happens.
During Tetris (and possibly other Jacobe songs too), thunder arrows will appear. When hit, the background will flash white while a thunder sound is heard. The notes also make Boyfriend lose health when hit.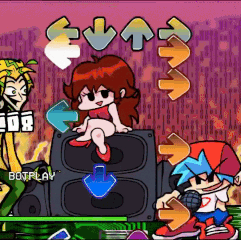 It is currently unknown what these arrows will do.
Trivia (General)
Jofini has said people can roleplay with Starecrown, but he is confused on why "people would want to roleplay as a 10 foot tall Thanos carrot pole".
Jofini has said that Girlfriend doesn't have her ususal demon powers in this mod, meaning any of the anomalies could easily kill her, with a few exceptions.
There are more than hundreds of Crown entities all around the world, all of which are siblings.
Crown entities age very diffrently from humans, with one crown year being the same as two human weeks.[17]
Cameos In Other Mods
Note: All of these cameos are not canon to ADAL's, the respective anomalies', or the developers' stories.
Music

MULTIPLE LOUD AUDIO FILES
---
Some of the audio files here are loud. Listen at your own risk, and watch for the warning icon!
Notable:
All of Starecrown's songs (both old and new), Glarecrown's Teaser 1, both Fishbrain songs, Wally.ogg, The last 4 seconds of Gene's first song.
Reason:
*All of Starecrown's songs contain jumpscares in the form of his loud, sudden screams of excitement.
*For as short it is, Glarecrown's Teaser 1 can be quite loud.
*Fishbrain screeches a few times in Floating and all throughout Sinking.
*The ending of Wally.ogg is VERY loud.
*The 4 extra seconds of Gene's first song can be quite loud

Placeholder Used
- Caramel
---
This article uses one or more placeholders. Placeholders are commonly used for when a mod or asset hasn't been released publicly. Placeholders should be replaced with official assets as soon as possible.

Note: Banana Demon, Lua and Vowder do not have icons at this point in time. For now, as placeholder icons, we are using fanmade icons by Ej.
Sound Effects
Dialogue
STARE Dialogue
Starecrown: I knew I smelt the right one!
Starecrown: Hello dear! Pleased to observe!
Starecrown: You have such nice vocal chords!
Starecrown: Care for me to watch you try?
Starecrown: I knew you'd agree.
Starecrown: Friend! Tis' not all about copying my rhythm!
Starecrown: Make up your own, if you can!


Starecrown
:
I'll be watching...
Staredown Dialogue

Starecrown: It is rather grim of me to state this...

Starecrown: But I am rethinking my original ploy.

Starecrown: This previous plan was for you to return to where I retrieved you without any memory of this encounter.

Starecrown: But something else tells me to have another go.

Starecrown: I have absolutely relished our little symphony, more than I could have ever imagined!

Starecrown: Seeing your vocal cords twinge, that wonderful noise inflates me with joy~

Starecrown: I could resist staring from the distance no longer.

Starecrown: Even if, pardon, I assume my singing ability isn't up to your standard.

Starecrown: Standards raised high through the countless foes you have faced.

Starecrown: I believe this will be better for the both of us.

Starecrown: At least that's what my peers have told me.

Starecrown: You must be confused!

Starecrown: So let me reiterate...

Starecrown
:
I̴͔̖͝'̷̼̈v̸͓̰͝e̵̞͎̚ ̷͋̄͜ḇ̶̣̅e̷͕̓ḙ̷͝n̵̳̋̿ ̵͉̯̔c̶̟̰̏́ṙ̴̬̖͘a̶͚͑̓v̶̘̕̕i̴̤͗͠n̸̲̍̏ģ̵̗͝ ̶̜̘͆͂t̸̟͠h̴̭̄i̶̛͓̹s̸̝̆̂ ̴̨̏f̶̻̎ó̸̫͍̾r̷̪̊̊ ̵̺̎̓a̶̧̔ ̷̲̟̔͑w̸͕̎́h̷͎̯͒͒ì̴͍l̵͔͑̐ḛ̸̠̑,̴̙̔ ̷̠̦́b̷̤̐o̷͕̽y̷̳̆f̷͔̠́̕r̸̪̄i̷̧̓e̶͍̎̚n̴̰͓͐d̶̡͒.̶̫̖͑x̸͕̜͑̍m̸̖̠̎l̷̨̰͋.̸̦͂̾.. (I've been craving this for a while, boyfriend.xml...)
Body Inversion Dialogue

Starecrown: Time.

Starecrown: A terrible song mocking my attempts to relish every waking moment.

Starecrown: And now, because of such a concept...

Starecrown: No more will I be face-to-face with such a wonderful example of human spirit.

Starecrown: I would never wish harm on you, despite my physical appearance stating otherwise.

Starecrown: I would never wish to disturb, even if fascination is at its highest.

Starecrown: However, in recent times some thoughts drift slowly into my conscience recommending the opposite.

Starecrown: Strong alien urges involving the sacred art form I know all too well...

Starecrown: ...

Starecrown: Body Inversion.

Starecrown: ...

Starecrown: What if this was really why I came into being three years ago?

Starecrown: To make you the best boyfriend.xml you can possibly be?

Starecrown: Your organs,

Starecrown: Your teeth,

Starecrown: Your v̸̼̯̂͜o̴̦̐͆̃ç̶͈̆̐͘̚â̷̟͍̑l̵̜̃̚ ̵̯̲͚̓̎̒͒c̵̢̞̃o̵̥̽̀r̷̼̳͇̊d̴͓̉̽̆s̶̱̄͒̈́͠,

Starecrown: Every part of you a painting, hidden from view.

Starecrown: What if that's what my peers have been hinting at?

Starecrown: ...

Starecrown: What if?

Starecrown: You deserved this?

Starecrown: ...

Starecrown: "This is wrong," I thought.

Starecrown: "He's my idol, he's my mission!"

Starecrown: "Come out of it and continue your purpose!"

Starecrown: "You've gone so far only to become what you loathe."

Starecrown: "So why does this feel so good?"

Starecrown: ...

Starecrown: I feel strange admitting this fact, almost like I'd never do without peer influence...

Starecrown: But it's finally time for your scheduled inversion of the flesh.

Starecrown: ...

Starecrown: He did say I was an anomaly, after all.

Starecrown
: A̸n̵d̶ ̶w̵h̵a̶t̷ ̶e̷l̶s̴e̵ ̷d̷o̶ ̷w̵e̴ ̶d̵o̵?̵
Operation Frogsong Dialogue

Fred: OH HOW IT PAINS ME TO SEE YOUR FACE AGAIN!!!

Fred: ESPECIALLY SINCE IF MY NEWEST PROJECT HAD WORKED,

Fred: YOUR ORGANS WOULD HAVE BEEN INDISTINGUISHABLE FROM THE STARS!!!

Fred: IT'S ME, FRED THE FROG!!!

Fred: EVERYONE'S FAVORITE LEAST FAVORITE DIMENSIONAL ANOMALY!!!

Fred: HAHAHAHAHAHAHAHAHAHAHAHHAHAHAHAHAHHAHAHAHAHAHAHAHAHAHHAHAHAHAHAHAHAHAHHAHAHAHAHAHAHAHAHAHAHAHAHAHAHHAHAHAHAHAHAHAHAHAHHAHAHAHAHAHAHAHAHAHAHAHHAAHHAHAAHAHHAHAHAHAAHAHAHAHAHAHAHAHAHAHAHAHAHAHAHAHAHAHAHAHAHAHAHAHHAHAHAHAHAHHAHAHAHAHAHAHAHAHAHHAHAHAHAHAHAHAHAHHAHAHAHAHAHAHAHAHAHAHAHAHAHAHHAHAHAHAHAHAHAHAHAHHAHAHAHAHAHAHAHAHAHAHAHHAAHHAHAAHAHHAHAHAHAAHAHAHAHAHAHAHAHAHAHAHAHAHAHAHAHAHAHAHAHAHAHAHAHHAHAHAHAHAHHAHAHAHAHAHAHAHAHAHHAHAHAHAHAHAHAHAHHAHAHAHAHAHAHAHAHAHAHAHAHAHAHHAHAHAHAHAHAHAHAHAHHAHAHAHAHAHAHAHAHAHAHAHHAAHHAHAAHAHHAHAHAHAAHAHAHAHAHAHAHAHAHAHAHAHA!!!!!!

Fred: ALL'S TOO BAD FOR YOU!!!

Fred: BUT SINCE WHEN DID ANYONE CARE ABOUT YOUR WELL BEING???

Fred: BECAUSE I SURELY NEVER DID!!!

Fred: AND I WAS EAGERLY WAITING FOR THE MOMENT YOU REALIZED IT TOO.

Fred: PEOPLE ONLY CARE ABOUT YOUR VOCAL CORDS.

Fred: THROUGHOUT ALL THE ENEMIES YOU'VE FACED, BOYFRIEND...

Fred: YOU AREN'T EVEN THE ONE HITTING THE NOTES.

Fred: AND EVEN THOUGH I'VE SPENT MONTHS IN VAIN TRYING TO GET THAT PURPLE CROWN THING TO KILL YOU...

Fred: I KNEW IT WAS ALL WORTH IT TO SEE YOU TONIGHT.

Fred: STARECROWN TURNED OUT TO BE MORE POWERFUL THAN PREVIOUSLY EXPECTED.

Fred: IMPRESSIVE FOR SOMEONE WHO CAME INTO BEING ONLY THREE YEARS AGO.

Fred: BUT NOW, IT'S JUST YOU AND ME!!!

Fred: NOBODY WILL BE ABLE TO PREVENT THE INEVITABLE.

Fred: INEVITABLE EVENTS WHICH WERE SEALED IN STONE ALL THOSE MONTHS AGO AT THE EDGE OF THE UNIVERSE!!!

Fred: EVENTS TAKING PLACE NO SOONER OR LATER THAN TONIGHT.

Fred: BUT EVEN IF YOU WIN THIS...

Fred: ADAL IS TAKING A GREAT INTEREST IN THE FOES YOU'VE FACED.

Fred: DON'T BE TOO SURPRISED WHEN YOU WAKE UP SOMEWHERE ELSE AGAIN.

Fred: I'VE BEEN PURSUED ENOUGH TO REALIZE THEY KNOW EXACTLY WHERE IT HURTS THE MOST..

Fred: YOU BETTER MAKE TIES WITH THAT TRAITOR WHILE YOU CAN.

Fred: THAT DOESN'T JUST HAPPEN WHERE I'M FROM.

Fred I HAVE POWERFUL FRIENDS INFILTRATING YOUR WORLD AS WE SPEAK.

Fred: SOME EVEN SHIFTING THE ADAL'S PERCEPTIONS ON WHO TO CAPTURE...

Fred: AND WHO TO WIPE FROM THIS WORLD ENTIRELY.

Fred: MORE PRESSING MATTERS ARE AT HAND.

Fred IF YOU WIN, YOU WILL FIND HIM FOR ME.

Fred: BEFORE HE FINDS YOU, OF COURSE.

Fred
:
TOO BAD FOR YOUR LITTLE GIRLFRIEND, EH RANDY?
Thunder Dialouge

(Upcoming, Prieview)
Jacobe:
That was, phenomenal!! GG's all around!!!
Staredown (Old) Dialogue
Starecrown: Alas, it has only been a few weeks since I've seen you!
Starecrown: But it felt like a blur.
Starecrown: Demons, frogs, clowns, more clowns, all such fun to watch!
Starecrown: But the true music to my nonexistent ears was having a go myself.
Starecrown: I couldn't resist staring from the distance no longer.
Starecrown: ...
Starecrown: You must be confused!
Starecrown: Let me reiterate.
Starecrown:


Starecrown:
I̴͔̖͝'̷̼̈v̸͓̰͝e̵̞͎̚ ̷͋̄͜ḇ̶̣̅e̷͕̓ḙ̷͝n̵̳̋̿ ̵͉̯̔c̶̟̰̏́ṙ̴̬̖͘a̶͚͑̓v̶̘̕̕i̴̤͗͠n̸̲̍̏ģ̵̗͝ ̶̜̘͆͂t̸̟͠h̴̭̄i̶̛͓̹s̸̝̆̂ ̴̨̏f̶̻̎ó̸̫͍̾r̷̪̊̊ ̵̺̎̓a̶̧̔ ̷̲̟̔͑w̸͕̎́h̷͎̯͒͒ì̴͍l̵͔͑̐ḛ̸̠̑,̴̙̔ ̷̠̦́b̷̤̐o̷͕̽y̷̳̆f̷͔̠́̕r̸̪̄i̷̧̓e̶͍̎̚n̴̰͓͐d̶̡͒.̶̫̖͑x̸͕̜͑̍m̸̖̠̎l̷̨̰͋.̸̦͂̾.. (I've been craving this for a while, boyfriend.xml...)
Tetris (Old) Dialogue
Jacobe: Ah yes, you've arrived!
Jacobe: Looks like we gotta SING now!
Boyfriend: Bep?
Jacobe: Comon, don't act confuzzled~
Jacobe: You brought your mic and some
Jacobe: MASSIVE FREAKIN SPEAKERS
Boyfriend: baaaap.
Jacobe: Why not an old favorite then?
Jacobe:
Let's rock!
Thunder (Old) Dialogue
Jacobe: GGs all around!
Boyfriend: BAP BOP BE BE
Jacobe: However, uh, I seem to be glitching a bit...
Boyfriend: Bep?
Jacobe: You have a knack for transforming people,
Jacobe: But this quickly?
Jacobe: It must be a glitch in the system...
Boyfriend: Ba?
Jacobe: Listen to me, you have to lose this one.
Jacobe: It'll get you out of here, before I fully change...
Boyfriend: BO!
Jacobe: Fine, I get it, speakers too heavy or something.
Jacobe: Just please, be careful...
Jacobe:
Cause I won't be.
Lightning (Old) Dialogue
Glitchy:
TIME FOR THE TEN METER SMASH!!!
STARE (Corrupted) Dialogue
Starecrown: Help me pls i am dieing
Starecrown: lemon man my lover has corrupted me with an
Starecrown: an std
Starecrown:
Starecrown:
Starecrown:
Starecrown:


Starecrown:
(Lots of Zalgo Text, decodes to: TIME TO REVERSE THE ORDER OF YOUR TEETH)
Gallery (General)
Download Links
Individual Starecrown Download Links
WARNING: the below will instantly download once the link is put in the browser.
Corrupted version download

-> (files.gamebanana.com/mods/corruptcrown.zip)

Old phase 1 download

-> (files.gamebanana.com/mods/staremodv3.zip)

Old phase 2 download

-> (files.gamebanana.com/mods/starecrownphasetwo.zip)

Phase 1 remastered download

-> (files.gamebanana.com/mods/starecrownweek1remastered.zip)

Phase 1 remastered (Old chart) download

-> (files.gamebanana.com/mods/starecrownweek1remasteredoldchart.zip)

Phase 2 remastered

-> (files.gamebanana.com/mods/starecrownweek2remastered.zip)
See Also
References
Mods

Overhaul

Corruption

-

Vs. Sonic.exe

(

Minus

-

Sally.exe Reskin

) -

Vs Impostor

-

Doki Doki

Takeover

-

V.S. Shaggy

-

Indie Cross

- The Trollge Files -

Hololive Funkin'

-

Vs. Retro

Specter

-

Friday Night Fever

-

Vs.

Bob

and

Bosip

-

Soft

-

Friday Night

Funkin'

HD

-

Friday Night

Shootin'

-

Friday Night Vibin

-

Everywhere At The End Of Funk

-

Salty's Sunday Night

(

Peppered

) -

Dusttale

-

Tails Gets Trolled

- Funkin' Physics -

Unified

Beats

-

Flip

Side

-

Monday Dusk Monolith

-

Times & Tribulations

-

Band Practice

-

With

Pa

ra

p

pa

-

Friendly Night Funkin

-

X-Ray

-

Friday Night Funkin: Bubbles' Tour

- FNF: Funkin' Nights at Freddy's -

Monika.exe

-

Friday Night Foundation

-

Friday Night Mashup

-

Friday Night Funkin' Pixels

-

Saturday Stuck in Soulstrike

-

Elegant Night Dancin'

-

The Weeg Mod

-

Entity

Origins

- Friday Night Funkin: Untitled Remixes -

Friday Night Funkin' -

A World of Our Own

-

Saturday Night

Swappin'

-

Arrow

Funk

-

Friday Night Flippin'

-

Friday Night

Funkin' Logic

-

Friday Night Fluffin'

-

Martian

Mixtape

-

Super Mario Bros. Funk Mix DX

-

Vs.

Arle

-

VS Mommy

Long Legs

-

Muddy Puddles

Funkin

New Week(s)

Vs. Whitty: Definitive Edition

-

Mid-Fight

Masses

(

Minus

-

Remastered

-

Genderbend

-

Rework

) -

Hazy River

-

Concert Conundrum

-

VS. Hex

-

Bob's

Onsl

aught

- Arcade Showdown -

Vs. Zardy

-

X-Event

-

Starlight

Mayhem

- QT Mod - Friday Night Funkin

Lullaby

- Vs. Dave and Bambi ( Golden Apple Edition) -

The Date Week

- Vs. Sans (Fuzz) - Holiday Mod -

CG5 Edition

- Sunday Night Suicide - - Vs. eteled - Plants vs. Rappers -

Pibby

Corrupted

-

Vs. Brightside

-

The Impostor Boyfriend Saga

-

Deep-Sea Date

-

Bikini Bottom Funkin'

-

V.S. NekoFreak

-

Night of the

Funky

Bot

-

Slime Showdown

-

VS Kris

-

31 Minutos

-

Banjo

&

Kazooie

-

Boss Rush

-

Sonic

Corrupted

Generations

-

Dusk Till Dawn

-

LUNAGAME.EXE

-

Matt Wiik 3

-

Mii

Funkin'

-

Derker Bluer Edition

-

Friday Night

Funkin' Windows

-

Vs Ridzak

+ Cybbr

-

Kepler Observation Unit

-

Hero's Journey

-

Demonic Duke-Out

-

Vs. MLG-Tan

-

Singe and Sear

- Friday Night Funkin': Unfinished Business: Vs. Adam - Trouble Double -

Pyro's Firey Friday

- Fruit Medley Mayhem - The Gacha Mod - Cultish - VS Fireboy & Watergirl - Maginage Matches - VS Tord Expanded - Vs. Punk Girl - Soviet Cartoons -

VS. Clip

-

Vs. Beepie

- Mario Pissing -

Internet's Down

- Funkin' at Freddy's + Afton - Vs. Bambi Strident Crisis - Vs Bamding - FNF: Popcorn Edition -

Starving Artist

-

Retaken Sanity

- Friday Night Sandboxin' The Squidward Tricky Mod - VS Ron: The Resurrection - Blast To The Past (Vs. FireIce) - Vs David - Fine Night Funkout - V.S Shard - Byte Funkin' -

Shinobi

Scramble

- Vs. Not Normal - Heart Attack Rampage ( Neonight) - Changed Mod -

Vs. The Boss

- Vs. Bob (SMG4) -

Confronting Yourself Mod

- Endless Cycles - Chaos Series - Cyber Sensation - Another Summer - Friday Night Postin' - Vs. Ambion Corrupt Frenzy - VS Stickman - Bad Luck QT - Fuckin' Funkin' W/Koi - Cookie Run Funkin' - Friday Night

Trepidation

- Vs. Pokemon - Skalloween Spectracle -

VS CHEEKI & Nirepa

- Friday Night Parasite - Friday Night Funkin': Personalized - Manny Edition -

MARATHON MADNESS

- The Fantrack Madness - Hortas Edition -

Exospheric Corruption

- Bambi's Funky Night - Hellscape -

Artistic Altitude

- DAMAGE WEEK - Friday Night Funkin' Web Rush - Bambi Gets Trolled - Vs. SpongeBob Media - Vs. Osan - The Mega Mogus - Cornflower Week - Wednesday's Infidelity - and why he ourple - Vs. Piracy Sonic - Ben's Adventure - FNF' Skeleton

Bros

- Friday Night Funkin': Pixel Peril - Scarlet Melopoeia - Phantastical Boundaries - Pluto's Reprisal
Remix
B-Side Remixes -

Neo

- D-Sides - B3 Remixed - C-Side Remixes - SiIvaGunner Rips - Unofficial SiivaRemixes -

Starcatcher

-

Hellbeats

- UpSide - Neonight's Covers - Blantados' Covers and Remixes - BeatStreets - Another Friday Night - RetroSpecter Remixes - Kamex Remixes - High Effort Minus Tankman- Absolute Rage Mashup - Friday Night Funkin': Crystal - Alpaca Remix
Reskin
Minus - Super Paper Mario -

GenderSwaps

- Amogus - Clay Mod - Expurgation High Effort 2.0 - Vento Aureo Mod - Sonic's Rhythm Rush - Eddsworld's Funky Beats - StickyBM Mod Pack - Friday Night Funkin': Summer Vacations - Friday Night Funkin': CoryxKenshin Edition - SugarRatio's Remasters - Friday Night Snartin' -

V.S Whitty

+ BF - Friday Night Funkin X Piggy - Brawl Stars Mod - Friday Night Defending - Steel Ball Run Mod - FNF: Carrot's Style - Brand New Funkin' - Rincewind University - Electro Funkin' - Your Turn to Die - Midori Mod - nicomon2007's Covers - Enraged Artist's VS. EddsWorld Mods - ONLINE VS. Style Tomsworld (Flexture) - Funk! Miss Tamara - Plant's Night Funkin' -

OpheeBob

- Monday Night Madness - The Monstrosity of Experiments - Psychiatric Funkin' VS Tom Oliver -

Monster Version

Funny
FNF but Bad - Friday Night Gunnin' - Lomongus Mod - Friday Night Funkin': Up Arrows Only - The Impossible Trio Chart - Memeverse - little man 2 please play right now
Other
High Effort Ugh - Golf Minigame - ONLINE VS: ( Challenges) -

Vs Mario (FFG291)

- Vs. Banana And Coral - Vs. Shantae
Modding Engines

Psych Engine

-

Kade Engine

-

Mic'd Up

-

Modding Plus

- UFNF Engine -

Yoshi Engine

Cancelled
ENTITY -

Funkin' With Dalia

- BAMBI'S PURGATORY
Characters
Swap
Anthro Doggo - BF And GF - Vs. Girlfriend - Monster BF - Monster Pico - Mad Senpai - Monster and Humanized!Spirit - Pirate Monster - Pulp - Romantic Boyfriend - The Spookalgamate - Tall Boyfriend (BossSwagMaster) - Inside-Out Boyfriend - Christmas Girlfriend

- GF Legs - Doge/Shiba Inu Girlfriend - Happy Pico - BF over GF - Rapper GF - Crazy Girlfriend - Angrier Senpai - Lia - Mia - Kia - Stalker Girl - carlos - Reanimated Boyfriend (ZERO - FreshWoomy) - BF X Pico - Mermaid Girlfriend - Playable Minus GF - 2VPLUS Senpai - Senpai / Spirit HD - Lemon Angel - Smol Monster - Photoshopped BF - Monster Neeko - Playable Tankman - Pixel Tankman - Pixel Pico - Impostor Boyfriend - Toadico - Festive BF - Happy Boyfriend - Benjamin Fairest - Pepper Monster - Chester

Relatives
Boyfriend's Dad - Boyfriend's Mom - Ritz - Hatsune Miku (bbpanzu) - Big Brother - Big Sister - Older Bro - Baby Blue Brother - Beach Brother - Cassandra - Sister Searest - Lila - Corrupted Lemon - Lemon Sister
OC

Whitty

(

Fun Sized

- Boss Rush) - Updike - Julian - Nitty - Hex ( Fun Sized - GF - Cyber Sensation) -

IRIS

- Carol - Annie ( Legacy) - Dalia - King ( lagoAnims - tictacto) - Ayana - Tabi (Boss Rush) - Sky ( Sky Remanifested - NuSky + Skyverse - Trusky + Skyverse - HD - Minus - Soft - B-Side (Ronezkj15 & Spurk FNF) - Neo - Over GF) - Ski ( Sky Remanifested - NuSky + Skyverse - Trusky + Skyverse) - Bluefrok Sky - Skyblue ( Fan-Made - Sky Remanifested - NuSky + Skyverse - Trusky + Skyverse - Mask Off Reconstruction) - Faker Sky (Sky Remanifested - NuSky + Skyverse - Trusky + Skyverse - Mask Off Reconstruction) - Sarusky/Sora ( NuSky + Skyverse) - NuSky - Miko (Sky Remanifested - Trusky + Skyverse) - Skychi (Trusky + Skyverse - Mask Off Reconstruction) - CuSky - Brandon - Trusky (Mask Off Reconstruction) - Parasol Sky - Skylar - Sunday - Sarvente ( Remaster - Young) - Ruv ( Remaster - Fun Sized) -

Selever

(

Remaster

- Full Week (Fan-Made)) - Garcello (Minus)- Salty -

Blueberry

- Jester - Bob - Ron ( 3D - The Ressurection - Boss Rush) - Little Man - Sakuroma - Xe - Ruria - Detra - JTC - Snarts - Randy -

Fuego

- Mike - Macy - Kazuki - Gumi - Brightside - Parasite - Omega - Bowie - Plate - Sketchy ( Redrawn) - Pompom - Mackie - RidZak - Cybbr - Shroom -

Static

-

Myra

-

Singe

-

Sear

-

Vetar

-

Kosten

-

Wren

- A.G.O.T.I. -

Aldryx

- Solazar - Nikusa - Lune - Xyn -

Corrupt

- Fire - Kaleigh - Feri - Aero - Flexy - The Merchant - Demetrios -

Anders

- Alex Bird - Red - Kapi - Kauan - Lexi (Sky Remanifested) - Abigail - Emmi - Fluffy the Hellcat - Subject 93 - Noke - CJ - Ruby - Bob - Bosip - Luxus - Frog Man - Anchor - Roro - Alya - Suvarna -

Grunko

- Berzerk - Displo - Kou - GSU -

Clownso

- Zipper - Ignis and May - Starecrown - Dilune - Ghost Twins - Katelyn - Cye - Yukichi - French Fry Guy - Reaper - Melty - Kiya - Xigmund ( Hotline 024) -

Tree

- Duck - Alfie - Watermelon the Cat - Kastimagina - ASCII - Flatline - Onek - Cyrix - Dr. Jack Springheel -

Cyber Alula

- Filip - Rosie - Mel - Bana - Peri - Tac - Lucian - Abby - Nick - Animated Ball - Yoma - Goves - Hell - Beegie - Usagi - Boo ( Hotline 024) - Boo Queen - Beepie - Lexi - Olivia - QT - KB - Void - Momi - Loki - Ashtoreth - Showcaster - Fizz - Cupid - Fueg0 - Poly - Valerie - Violet - Cloud - Door - Adam - Cosby - Spong - Joe Mama Squidward - Starvedward - Starved Plankton - SpongeXML - Nightmare Squidward - Bait-Sides Squidward - Sexoward Testicles - Kavouras - Aftermath - Remorse - Soulkeeper - Shuri - Ken - Javier - Cream - Richard Gyro - Jay - DOXXI3 - Troyr - Ghost - Novanomikon - Funk - GameBanana User - Fridge - Stickman - Printer - Grass Block - Toxic Hater - Tom Stuart Oliver - Mike de la Quenelle Connor III -

Rose Angel Oliver

- Smoky - Kai - Umball - Arwin - GB - HELLBREAKER - Theo Parker - Shorty Collins - Raquel Vasquez - Minji Kim - SL4SH - Hog/Scorched - Requital - Mighty.ZIP - Documic.TXT - Sonik'.FLA - Nikku - Gogo - Momo - Rude#1 - Matzushii - Clips - Markus - Crisis - Experiment - Yekom - Zephyrus - Yourself - Mr. Skeppson
Newgrounds