Jurassic World: Dominion Dominates Fandom Wikis - The Loop
Play Sound
Warnings: Trigger Warning, Spoilers.
Notices: Fan Favorite, Fan Made.

Legacy Edition Tord is a mod by Jason The Art Kid that gives the original version made by bbpanzu a different look that makes Tord kinda look like he did in the Legacy Era of Eddsworld, as oppossed to the 2007-2009 Pre-Legacy Era of the original mod.
Redrawn Sketchy is a mod by Jason The Art Kid, made specifically to make it match the FNF style better. Sketchy is a drawing, being a plain white and black doodle. In addition to this, the music also has been remixed with the most notable being Rip and Tear. For this mod, it is depicted that Sketchy was drawn during the Creator's middle school years and that he was redrawn after they got home from their finals with improved skills in art.
Characters
Tord
Not to be confused with the original Tord by bbpanzu or the expansion by uneedtalent64.
Differences
Tord
This version of Tord gives him a lot more stylization to look more in tune with Friday Night Funkin'
His design is more faithful to the original series.
Tord now has shading, a more spread out stance and much smoother animations.
Tordbot
Tordbot has received a massive overhaul in terms of design. It now has different scaling, and whenever it hits a note,
the glass turns red and Tord can be seen inside piloting the Robot with a psychopathic smile, wearing his signature pickelhaube helmet (which goes well with his giant robot).
When you have an April Fools version, Tord's giant robot will be replaced with Among us Red.
Trivia
For more information pertaining to Tord in Eddsworld you can see his relevant article on their wiki!
Susbot was removed with the comment 'Removed that sussy bucka'.
The BPM for Tordbot is 205.
In contrast to the original mod, Tordbot in this mod contains held notes.
In Tordbot, Edd and Matt are seen in the background. This references Eddsworld: The End Part 2 when Edd and Matt come home from getting groceries, they confront Tord before he flies away.
Tordbot's old idle animation was a lot smoother than the new one. That's because Jason had to cut a lot of frames in order to fit Tordbot's note animations due to how big he is.
Gallery
Sketchy
Were you looking for the original?
Differences
Normal
Sketchy now has thicker, more solid lines to match Friday Night Funkin's artstyle better.
His hands are now actual fists instead of two circles, and his feet and hands now have shading on them.
The microphone he wields is also silver now instead of white. In Sketched Out, he gets angry mid-song.
Crumpled
For his crumpled form, his head and the left side of his body have been torn out, exposing what appears to be Sketchy's intestines, which consist of a bunch of black scribbles, with some type of black liquid dripping from his head (presumably graphite or ink).
He also seems to be holding parts of his ripped head.
Trivia
According to Xeneth, the original creator of Sketchy, while he says it's well drawn and the music is good, he personally felt like the charm went away.

They have also said the remaster was more edgy then the original, likely due to the remaster using the angry trope and featuring Sketchy ripping off his own head compared to getting harmed from being in the presence of physical life.

The background of Line Art and Rip and Tear has many mod characters making cameos, including Bob, Tabi, A.G.O.T.I., Rebecca, Carol, Hex, Whitty, Matt, Tankman, Garcello, Tricky and Sketchy himself. However there are references to other series or games, like Battle For Dream Island and Sonic the Hedgehog.

IRIS' eye from VS. Hex can also be seen along with other mod characters.

An update was going to be released, but got canceled and unfinished. More info about the build can be found here

In the background is a reference to BFDI where Pencil is holding a pencil and that pencil is holding a pencil, etc.
Music
Dialogue (Sketchy)
Line Art Dialogue

Narrator: **The creator has completed his finals for the school year, and made his trip back home**

Narrator: **When he arrived, he decided to open an old school notebook on the top shelf, filled with doodles from middle school**

Narrator: **(Ya know, to look at how much they've improved as an artist over the years)**

Narrator: **As he flipped through the pages, noticeable doodles gave the creator a sense of nostalgia**

Narrator: **After feeling this, the creator wanted to draw what he always used to draw in middle school**

Narrator: **His favorite stick figure, Sketchy**

Narrator: **The creator grabbed a pen and a pencil and made huge line strokes with his arm**

Narrator: **And, after a few pencil strokes, some shading, and then finishing it off with the line art...**

Narrator: **the drawing came back...**

Sketchy: I was able to be drawn again with the other doodles!

Sketchy: Those years of art and hard work paid off...

Sketchy: A high quality stick figure,

Sketchy: The one and only stick figure of them all!

Sketchy: Now that I withhold the power of the arts from the creator,

Sketchy: I kinda want to draw something and test my ability out...
(Sketchy begins drawing Girlfriend)
...
...
...
(finishes drawing Girlfriend)

Sketchy: I didn't know that I was that good.

Sketchy: Amazing in my eyes if I say so myself!-

Narrator: **The creator felt the need to draw more after seeing his improvement on the page**

Narrator: **and drew a funky looking midget**

Sketchy: Who are you?! And how are you on here?!

Sketchy: I never drew you at all!

Narrator: **Bf draws a bit on the paper, and nearing towards Girlfriend**

Sketchy: Hey, leave this beautiful drawing alone!

Sketchy: Get off this page before I skribble you out instantly!

Sketchy: Oh you want to fight over her?!

Sketchy: You ain't winning her bud!-

Sketchy: I guess I have no choice then...

Sketchy
:
You're going to regret this!
Sketched Out Dialogue

Boyfriend: Bop beep be be skdoo bep
**Bf sketches more of the page around him, agitating Sketchy**

Sketchy: I DON'T WANT MY ARTISTIC SIDE SCRIBBLED AGAIN,

Sketchy: I DON'T WANT TO BECOME THE OLD SKETCHES AGAIN,

Sketchy: I JUST WANT TO SHOW MY WORK TO THE WORLD AGAIN!

Boyfriend: **draws a bit on Sketchy**

Sketchy
:
I'm really getting sick of you, dude.
Rip and Tear Dialogue

Sketchy: I'M DONE WITH YOU AND HER!

Sketchy: I JUST WANT TO SHOW MY WORK FOR ONCE...

Sketchy: JUST FOR ONCE, AFTER ALL THOSE YEARS OF NOT BEING DRAWN AT ALL...

Sketchy: IF I CAN'T BE WHO I WANT TO BE ON PAPER,

Sketchy THEN YOU CAN'T BE EITHER...
**Sketchy starts to rip the page**
Gallery (General)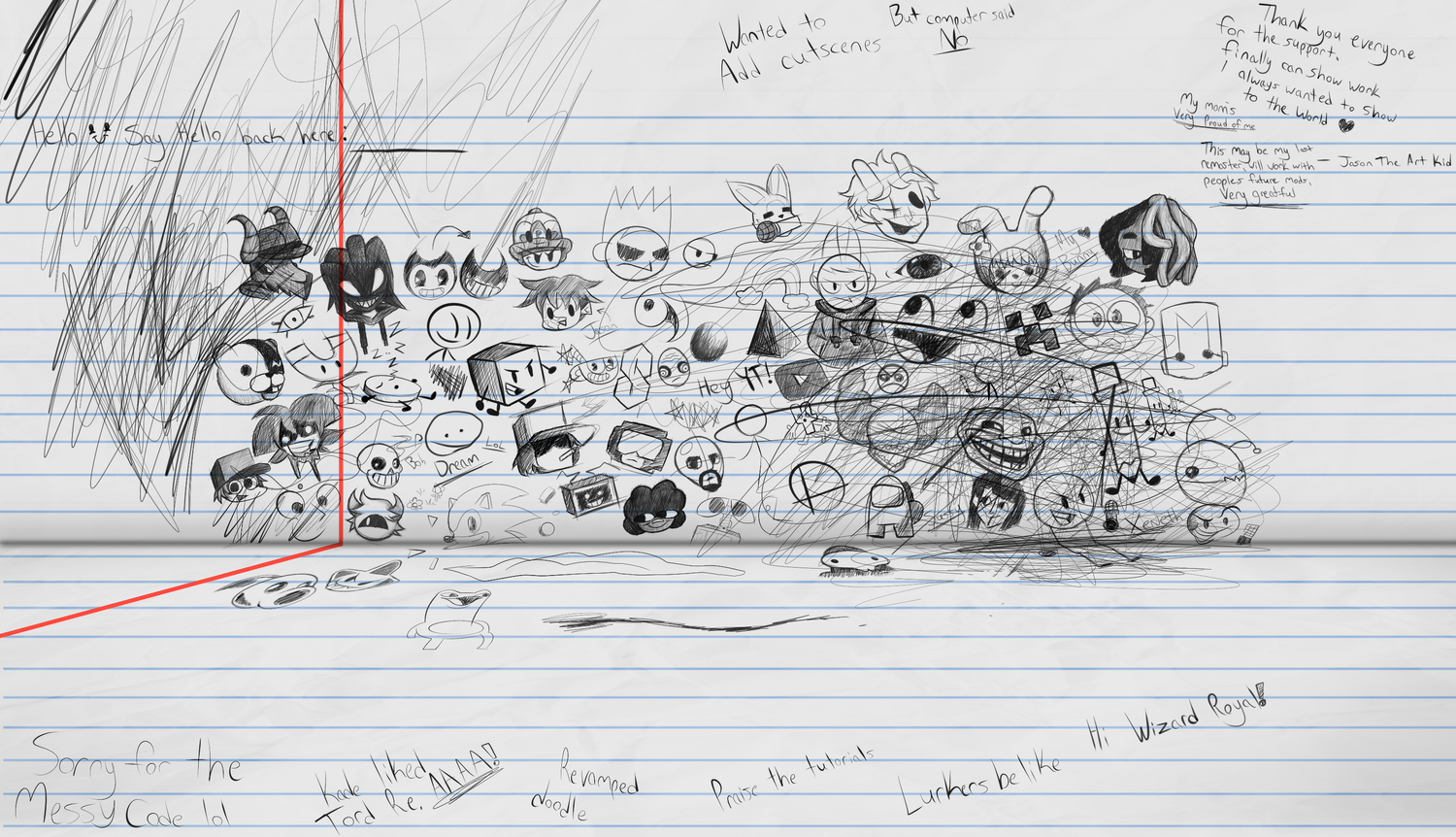 Background Stuff (Sketchy)
Background drawings
The remaster has different drawings in the background:
IRIS
A crescent moon
Flowers
Bendy, both his cartoon design and his Ink form
Bob (the word "dream" can be seen under his face)
Pog Frog chair (KadeDev)
Dad (Dad N' Me)

Tom

The Cool S
A snake
Wall-E
Jason The Art Kid
Magnet Shroom
A rainbow
A circle
Cval
"Hey YouTube"
A Triangle
Stickman
Pac-Man from Pac-Man
Monokuma from the murder/mystery game series Danganronpa
YouTube logo
Smash ball
A realistic eye
Minecraft Creeper
Sketchy's original design
A sketched out pin
A Castle Crashers knight
BBpanzu (Unused)
Background Text
"Sorry for the messy code LOL"
"Kade liked Tord Re. AAAA!"
"Revamped doodle"
"Praise the tutorials"
"Lurkers be like"
"Hi Wizard Royal!"
"Wanted to add cutscenes but computer said NO"
"Thank you everyone for the support. Finally can show work I always wanted to show to the World"
"My mom is very proud of me"
"This may be my last remaster, will work with - Jason The Art Kid"
"dream" (under bob)
"sussy" (next to imposter)
"lol" (also next to bob)
Download Link
GameBanana

(Tord)
GameBanana

(Sketchy)
See Also
The YouTube video linked in the hidden bob files
Characters
Swap
Anthro Doggo -

BF And GF

- Vs. Girlfriend -

Monster BF

-

Monster Pico

- Mad Senpai - Monster and Humanized!Spirit - Pirate Monster - Pulp - Romantic Boyfriend -

The Spookalgamate

- Tall Boyfriend (BossSwagMaster) - Inside-Out Boyfriend - Christmas Girlfriend - GF Legs - Doge/Shiba Inu Girlfriend - Happy Pico - BF over GF - Rapper GF - Crazy Girlfriend - Angrier Senpai - Lia - Mia - Kia - Stalker Girl - Carlos - Reanimated Boyfriend (ZERO - FreshWoomy) - BF X Pico - Mermaid Girlfriend - Playable Minus GF - 2VPLUS Senpai - Senpai / Spirit HD - Lemon Angel - Smol Monster - Photoshopped BF - Monster Neeko - Playable Tankman - Pixel Tankman - Pixel Pico - Impostor Boyfriend - Toadico - Festive BF - Happy Boyfriend
Relatives
Boyfriend's Dad - Boyfriend's Mom - Ritz - Hatsune Miku (bbpanzu) - Big Brother - Big Sister - Older Bro - Baby Blue Brother - Beach Brother - Cassandra - Sister Searest - Lila - Corrupted Lemon - Lemon Sister
OC

Whitty

(

Fun Sized

) - Updike - Julian - Nitty - Hex ( Fun Sized - GF) -

IRIS

- Carol - Annie ( Legacy) - Dalia - King ( lagoAnims - tictacto) - Ayana - Tabi - Sky - Sunday - Sarvente ( Remaster - Young) - Ruv ( Remaster - Fun Sized) -

Selever

(

Remaster

) - Garcello (Minus)- Salty -

Blueberry

- Jester - Bob - Ron ( 3D) - Little Man - Retro - Sakuroma - Xe - Ruria - Detra - JTC - Snarts - Randy -

Fuego

- Mike - Macy - Kazuki - Gumi - Brightside - Parasite - Omega - Bowie - Plate - Sketchy ( Redrawn) - Pompom - Mackie - RidZak - Cybbr - Shroom -

Static

-

Myra

-

Singe

-

Sear

-

Vetar

-

Kosten

-

Wren

- A.G.O.T.I. -

Aldryx

- Solazar - Nikusa - Lune - Xyn -

Corrupt

- Fire - Kaleigh - Feri - Flexy - The Merchant - Demetrios -

Anders

- Alex Bird - Red - Kapi - Kauan - Lexi - Abigail - Emmi - Fluffy the Hellcat - Subject 93 - Noke - CJ - Ruby - Bob - Bosip - Luxus - Frog Man - Anchor - Roro - Alya - Suvarna -

Grunko

- Berzerk - Displo - Kou - GSU -

Clownso

- Zipper - Ignis and May - Starecrown - Dilune - Ghost Twins - Katelyn - Cye - Yukichi - French Fry Guy - Reaper - Melty - Kiya - Xigmund ( Hotline 024) -

Tree

- Duck - Alfie - Watermelon the Cat - Kastimagina - ASCII - DJ Hallyboo - Flatline - Onek - Cyrix - Dr. Jack Springheel -

Cyber Alula

- Filip - Rosie - Mel - Bana - Peri - Tac - Lucian - Abby - Nick - Animated Ball - Yoma - Goves - Hell - Beegie - Usagi - Boo ( 'Hotline 024) - Boo Queen - Beepie - Lexi - Olivia - QT - KB - Void - Momi - Loki - Ashtoreth - Showcaster - Fizz - Cupid - Fueg0 - Poly - Valerie - Violet - Cloud - Door - Adam - Cosby - Spong - Shuri - Ken - Javier - Cream - Richard Gyro - Jay - DOXXI3 - Troyr - Ghost - Novanomikon - Funk - GameBanana User - Fridge - Stickman - Printer - Grass Block - Toxic Hater - Tom Stuart Oliver - Mike de la Quenelle Connor III -

Rose Angel Oliver

- Smoky - Kai - Umball - Arwin - GB - HELLBREAKER - Theo Parker - Shorty Collins - Raquel Vasquez - Minji Kim - Mighty.ZIP - Nikku - Gogo - Momo - Rude#1 - Matzushii - Clips
Newgrounds
Tricky (Classic Tricky) - Tricky Phase 0 - Tricky Phase 5 - Hank J. Wimbleton ( Online Vs.) - Sanford - Deimos ( Aggregation - MashProTato) - Jebus (Latexify - SMc5) - The Auditor - Mag Agent: Torture - Romp - Scrapeface - Hotdog Vendor - Director Phobos -

ENA

(Senpai - Hotline 024) -

Moony

-

Shepherd

(

Supercario

) - Auctioneer - Brick Frog - Darnell - Cassandra - Nene - Piconjo -

Cassette Girl

- Tord ( Legacy Edition - Online Vs. - Matt Gets Trolled) - Tom (

Online VS.

- Matt Gets Trolled) - Edd ( Spider_Thiago - Online Vs.) - Matt ( Full Week - Matt Gets Trolled) - Eduardo ( Online Vs.) - Clones - Future Edd - Henry Stickmin - Phil Eggtree - Venus and Eve - Sigma - Salad Fingers - Steve - Fancy Pants - Geo - Ami Ami (lisaimai)) - Stan
Gaming
Zardy (Fun Sized) - Cablecrow - Monika ( HD - Hotline 024) - Sayori ( NEONVORE) - Natsuki - Yuri ( Hotline 024) -

Rayman

- Mario - Peach - Yoshi - Hypno - MissingNo. - OVA Sonic - MCSonic - Sonic The Hedgehog - Omochao - Majin Sonic ( Boss Rush) - Mazin Sonic- Tails Doll - MX - Coronation Peach - Lord X ( Chaos Series) - Alan - Roblox Noob - Cheeky - Violastro - ViolastroBot - Reimu Hakurei -

Rumia

- Sakuya Izayoi (BlackTiger2000 - ) -

Flandre Scarlet

- Athena Asamiya - Athena - Freddy Fazbear - Bonnie The Bunny - Chica The Chicken - Foxy The Pirate Fox - Yellow Bear - Withered Freddy -

Mangle

- The Puppet - Shadow Freddy - Springtrap - ( Funkin' At Freddy's - ) - William Afton - ( Funkin' At Freddy's - ) - RWQFSFASXC ( Funkin at Freddy's - ) - Michael Afton -

Funtime Foxy

-

Lolbit

- Glitchtrap - Vanny - Sunrise - Moondrop - Map Bot - DJ Music Man - Cuphead - The Devil - Bendy ( Indie Cross) - Ink Bendy - Sammy Lawrence - The Goose - Baldi ( Baldi - Baldi (Basics In Funkin')) - Mono - BEAR - Frisk - Chara ( SnowTheFox - Hexar) - Sans ( LiterallyNoOne - TheLunar27- Susususus - Indie Cross) - Papyrus ( Indie Cross) - Dust Sans - Mettaton - Kiryu Kazuma - OMORI - AUBREY - SPACE BOYFRIEND - Matt - Liz - Lane - Neon - Dark Matter -

Queen Sectonia

- Vibri - 1010 - Default Boy - W.D. Gaster - Captain Viridian - Hat Kid ( Lads In Hats - Kokoro Hatsaru) - Fred The Frog - Watergirl - Fireboy -

Davoth

-

Doom Slayer

(

Manlet

) -

Mae

-

Angus

- Maid in the Mist - Peashooter -'Sunflower - Mr. Game & Watch - Banjo - Ross - Bubbles - K.K. Slider - Ankha - Monokuma - Reporter - Brainwashed Callie - Hatty Hattington -

Brad Armstrong

- Hart - MC. Ballyhoo - Despacito Spider - Mayday - Kalisa - Chess Choco Cookie - Tiger Lily Cookie - Fire Spirit Cookie - Isaac - Crewmate ( Purple - Tomongus ( Hotline 024) - Mat - Sophie - Zachie - Banana - Yellow) Impostor ( Red - Green - Black - Tan) - Whisper - Komasan and Komajiro - John Bomb - Nadeko Sengoku - DJ Sray - Ralsei - Olivia - The Devourer of Gods - Major Burrows - Scary Larry - Human - Ragdoll - G-Man - Interactive Buddy - Despacito Spider - Yummers - The Overlord - Huggy Wuggy - Crash Bandicoot - Peashooter - Gattling Pea - The Toons - Relapsed Suicide Mouse Beta Luigi - Hu Tao - Xingqiu - Venti - Felix y Het
Animation
X!Chara' - Ink!Sans - X!Gaster - Betty Noire - Saness - Lewis Pepper - Caleb Lightpaw -

Pelito

- Peludo - Mami - Ryuko - Spinel - Peridot - Lapis Lazuli - Jasper - Hilda - Gelatin - Flippy ( j0nnytest) - Daisy - Eric Cartman - Loona - Pinkie Pie ( Elements of Insanity - Dusk Till Dawn) - Flutterguine - Starlight Glimmer - Garfield - Zoe Trent - Mr. DoucheBag - Oswald ( Sunday Night Suicide) - Shaggy - JFK - Rolf - Possessed Amy - Snap - Spongebob SquarePants( Bikini Bottom) ( Squidward Tricky) - Patrick Star ( Bikini Bottom) - Squidward Tentacles - Benson Dunwoody - Jenny Wakeman - Homer Simpson - SMG4 Mario - Bob Bobowski - Melony - Tari - Belle - Marvin the Martian - Firey - Four - Biggie Cheese - Phineas & Ferb - Sasha Waybright - Anne Boonchuy (CartoonMarcyLove)- Marcy Wu - Luz Noceda - Eda & King - Dr. Robotnik - Suction Cup Man - Ood - Woody Woodpecker - eteleD ( Boss Rush) - Austin - Racist Mario - Secret Histories Mario - LDO Mario - LDO Luigi - Speedrunner Mario - Red Mist Squidward ( Mistful Crimson Morning) - Peppa Pig - Homer Simpson - Chuck & Sneed - Consolezord - Charlie - Pim - Julian - GameToons Suicide Mouse Felix The Cat - 'Secret History Tails ('Sonic.Exe) - 'Secret History Sonic - 'Secret History Knuckles
Literature
Fleetway Sonic - Fleetway Super Sonic ( Chaos Series) - Saxton Hale - Greg Heffley - Rodrick Heffly - Susan Heffley - Nate Wright - Jotaro Kujo (and Kakyoin) - DIO - Josuke Higashikata - Giorno Giovanna - Bruno Bucciarati - Guido Mista - Narancia Ghira - Panacotta Fugo - Trish Una - Diavolo - Doppio - Squalo and Tiziano - Cioccolata and Secco - Chariot Requiem - Johnny Joestar - Gyro Zeppeli
Internet Personas

Rebecca

- 8-BitRyan ( Boyfriend) - Kubz Scouts - Dawktrap - Shyrell - StickyBM - Nostalgia Critic - Ninjamuffin - Vase - Nonsense (but real irl) - XOXO - Aflac - Blu - Mini - JGhost - Cerberus -

Verbalase

- RetroSpecter - Ace ( Fun-Sized) - NDXL - Anthem -

Cerbera

- Anthem - Wilbur Soot - Kimiri - Skeppy and BadBoyHalo - Fernando Bro Games - Cesar Fever - Blantad - Neonight - Sharv - Lylace - Swirl - Cheese - Camellia - Ethan - Faradey - Sly - Nathaniel Bandy - Piccohoe - Dani - Hiro-tan - Codist - Jerry-The-SMG4-Fan - SonaDrawzStuffYT - AlizaBunn - Merg - Nihhiu - Scott Wozniak - BBPanzu - Arm4GeDon - Taeyai (Minus) - Cval - KadeDev - Caddicarus - C0rruptzie - KiwiBurd - UniqueGeese ( B-Side - Neo - Hellbeats - Corrupted - Minus) - MatPat - Scott Cawthon - Loggo - Clowfoe
Internet Culture
Slenderman - Jeff The Killer - Gold - Sonic.EXE - (Minus) - Soul Tails - Soul Knuckles - Soul Robotnik -

Fatal Error

- Sunky.MPEG - Sanic.EXE - NeedleM0use - Coldsteel - Sink - Mario.EXE - I HATE YOU Luigi - Wario Apparation ( Mario's Madness) - Anti-Piracy Mario - L is Real Luigi - Grand Dad - Mr. Virtual - Stanley - Suicide Mouse - ( Wednesday's Infidelity, Mouse, Craziness Injection) - Satan - Alt Suicide Mouse - Costume - Beelzebub - He Needs To Eat - Macabre Experiment Mouse - Suicide Squidward( SpongeBob Media, Mistful Crimson Morning) - Sponge.avi - Herobrine - SpingeBill - Trickward - Catastrophe Crow - Ronald McDonald - Polar Bear - Cartoon Cat - Trollface - Jack Stickman - Mope Mope - Trollface/Trollge - John_Piss - A Bunch Of Mod Makers) - Blueballs Incident Trolls - Anonymous - Weegee - Sanic - Chrome Dino - Tiky - IRL Senpai - /v/-tan - Cancer Lord - Yotsuba Koiwai - MLG-Tan -

Dead Peashooter

-

Carmen Winstead

- Chikn Nuggit - Cheezborger - Iscream - Sody Pop - Slushi - Cofi - Fanon!Chara - - Normal SpongeBob- - Bold & Brash - Skitzo The Bear
Other
FL Chan (2022) - Mano Aloe - Ninomae Ina'nis- Marina - Michael Jackson - Lucky Boy - Kasane Teto - Beastie - Toilet - Dust Sans - Picardia - Baby - FireIce - Master Gracey - Among Dream - Withered Toy Sonic- Bonzi - Simone - Proto Boyfriend - Cheddar