We're Getting Mutants in the MCU - The Loop
Play Sound
Warnings: Content Warning, Copyrighted.
Notices: Outdated, Unfinished Page.

"What's going on guys, my name is Mason, or UniqueGeese and welcome back to another Friday Night Funkin' mod."
― VS UniqueGeese mod page


VS UniqueGeese - Feathery Fight is a mod created by UniqueGeese and his team which adds himself as an antagonist facing off against Boyfriend as he found himself, and Girlfriend, in Pissville.
Characters
Mason
"Here, let's take this into town, they'd love to hear you here!"
― UniqueGeese, Flock


UniqueGeese is a famous Friday Night Funkin' YouTuber and a PokéTuber and self-insert antagonist of the mod. He streams on Twitch, and then uploads the stream onto Youtube.
Appearance
UniqueGeese wears a purple jean jacket with a white t-shirt with a red rectangle in the middle under it. He wears a light purple cap with a black wing emblem design on it, he also wears square glasses and has brown hair. He lastly wears gray pants and black shoes. In Ascend, he sprouts large white goose wings.
Gallery
B-Side UniqueGeese
"Sing, we're gonna sing, we're gonna sing, we're gonna sing all day, I'm here with all my friends, we're at Pissville, we're gonna sing all day. Wake up! It's time to sing! Let's sing! We're gonna have a great time, you and me, we're gonna be best pals, we're gonna be buddies forever."
― B-Side UniqueGeese, Homage


B-Side UniqueGeese is the B-Side counterpart of UniqueGeese and the first antagonist of the mod's second week.
Appearance
In his B-Side version, he wears similar clothes to his original but his pants are instead white, his jacket and hat blue, and his shoes and some accents of his outfit are pale lime.
Trivia
According to UniqueGeese, B-Side Mason's personality is based on Underswap Sans, so that is the reason why in the cutscene he sounds excited to sing with BF.
His color scheme was made by Dreemi, which it was referencing the "Starting soon" screen during at the beginning of UniqueGeese's streams.
In his idle animation, his microphone's color was normally turquoise, but on his singing animations, it later swapped to the ordinary colors. It was most likely an error in the mod's initial release that was entirely noticeable, this was fixed in the V1.1 update.
Gallery
Neo UniqueGeese
"Say, you haven't seen a group of idiots around have ya?"
― Neo UniqueGeese, Neobattle


Neo UniqueGeese is the Neo counterpart of UniqueGeese and the second antagonist of the mod's second week.
Appearance
In his Neo version, he has a black coat with a green stripe, two gold wings near the zipper, and a white stripe on the back. He wears a gray t-shirt with a purple rectangle, fingerless gloves, purple and blue glasses, and a slightly damaged cap with an XO on it which got crossed out. Noticeably, his front hair pops out and has a small purple streak on it. His shoes are black and glow purple and blue on the soles. He lastly holds a small sharpened knife with a blunt tip.
Trivia
During at his beginning dialogue of Neobattle, he mentions how Neo BF know about Neo Pico's gang.
His design turns out to be semi-canon.
Gallery
Hellbeats UniqueGeese
"*evil laughter* Boyfriend..."
― Hellbeats UniqueGeese, Cooked


Hellbeats UniqueGeese is the Hellbeats counterpart of UniqueGeese and the third antagonist of the mod's second week.
Appearance
In his Hellbeats version, his coat is black with purple stripes, while his inner t-shirt is now red along with his pants, his t-shirt design is just a black hole. His cap is dark gray with the front fully black with red streaks. His glasses are dark and he has red eyes. His hair is purple and also pops out more as his bangs are seen. His shoes are lastly gray with white soles and purple accents and attains his fingerless gloves, like his Neo version.
Trivia
This design was first seen in the B-Sides Recolor Challenge on Twitter, but since the colors are more "hell-ish" and appearance looks entirely different, it picked fittingly as the Hellbeats design instead.
In his up pose, he's grabbing a scared Red Among Us Crewmate.
In his down pose, his finger snap color is now red, and so does his Sans eye.
Gallery
Corrupted UniqueGeese
"No, No... Why? Why me? Why Pissville? Why are you doing this? You can stop... You can stop... You can stop..."
― Corrupted UniqueGeese, Flightless


Corrupted UniqueGeese is the Corrupted counterpart of UniqueGeese and the fourth antagonist of the mod's second week.
Appearance
In his corrupted form, he is exactly the same as his regular self, except this time, he is covered and nearly assimilated by the corruption, which leaves out only half of his face and covers a majority of his chest and left arm. After the first part in the track's charting, he began look fully corrupted. During at the beatdrop on his track, he gains a blurry white outline and big claws.
Gallery
Minus UniqueGeese
"Hey! This is employees only! Yo, Roni, Chris. Lock em' up!"
― Minus UniqueGeese, Mason Moment


Minus UniqueGeese is the Minus counterpart of UniqueGeese and the fifth and final opponent of the mod's second week.
Appearance
Minus UniqueGeese is fully purple in color, like his icon, and bears slight resemblance to William Afton from the Five Nights at Freddy's series, as he is now a security guard. He sports a blue guard uniform and hat with a gold wing emblem, gray pants, a utility pocket belt, and wields a small gun that he spins around. So cool.
Near the end of Mason Moment, his appearance changes disturbingly, further embracing the FNAF homage. His clothing is now damaged, his legs transformed into a gaseous mound, his glasses glow bright purple, and purple sparks surge through him as a result of powering up to combat Blue Boyfriend.
Trivia
His first form was designed by Exterminator.

His second form, on the other hand, was designed by Jake_artist_13.
Both designs were picked for a challenge on Twitter of which Minus design for UniqueGeese is going to be in AU Attack, which it happened after the B-sides recolor challenge.
Gallery
Trivia (General)
The artist behind the mod's page banner is none other than ohyaholla, who also made artwork for the Vs. Bob and Bosip mod characters.
At the start of GeeseTune and Homage, you can hear the cantina band song from Star Wars.

It also references UniqueGeese's old outro music back in 2020 up to 2021, which it was later, after the mod's release, is replaced by the Celebrations instrumental.
In Flock, the Pokémon battle theme can be heard throughout the song.
Before the start of ascend, a cutscene plays where it shows a close up of UniqueGesse's face with a tear like design and a purple background, which is a reference to the Persona 5 games
In AU attack, you play as a different character each song:
His down pose is a reference as he snaps his fingers while he gains the blue Sans eye at the end of his stream intro.
His up pose is similar to Trollface and/or the Jerma sus face, in reality its actually based on the Snapchat Kill Guy.
Pissville comes from UniqueGeese's Minecraft Server.
He appeared in the background of the in the background week in the Vs. Bob and Bosip mod.
In Flock, the sound of entering a battle from the old pokemon games can be heard.
In Little Bird, the voice sample of Full Goose Form Geese is the HONK! sound option from UniqueGeese's Twitch streams, which it turns out to be the normal goose sounds from Untitled Goose Game.
geese thinks bunny woman are hot, even though he claims he is "not a furry."
This mod came out during UniqueGeese's birthday stream
Cameos in Other Mods
Note: None of these Cameos are canon to UniqueGeese's story:
In Vs. Hex, he appears alongside with the rest of the Fun Gang on the left side in "LCD".
In Taco Bell Tuesday#Ian, he has some dialogue, and is in the background as a employee at tacobell.
Music
Covers
B-side fresh (earape warning) https://youtu.be/pPg7ka5BNoY?t=166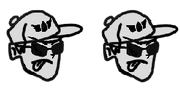 Monochrome https://www.youtube.com/watch?v=7_fkrHk1Tl4
sunshine https://www.youtube.com/watch?v=OfW-EU9Ag7M&t=118s

Dialogue
I told you going on this shady cruise was a bad idea!
Beep Boo (Hey, the tickets were free)
Finally! Land!
Yo yo yo wait a minute! You're the funny beep boop guy
And his girlfrien- *dies*
What are you doin' washing up around here?
Bah buh (Who even are you?)
Well welcome! The people around here love some live music! Mind if we spit something?
Finally the mod's done! It's been a few months but its finally done. Now I can work on the YouTube videos for this and move on to the next proj-
Huh? What the hell is this?
Oooh yeah it's Minecraft time! Wait. This isn't our world.
Yeah wait. Where's my farm?
Wait, this isn't even Amor's computer?! Who are you!?
Hey Mason! I'm glad you got my package! And congrats on finishing the mod too! I sent over a couple buddies of mine to help you celebrate!
Well alright then! Let's jam!
Gallery (General)
Download Links
Mods

Overhaul

Corruption

-

Vs. Sonic.exe

(

Minus

-

Sally.exe Reskin

) -

Vs Impostor

-

Doki Doki

Takeover

-

V.S. Shaggy

-

Indie Cross

- The Trollge Files -

Hololive Funkin'

-

Vs. Retro

Specter

-

Friday Night Fever

-

Vs.

Bob

and

Bosip

-

Soft

-

Friday Night

Funkin'

HD

-

Friday Night

Shootin'

-

Friday Night Vibin

-

Everywhere At The End Of Funk

-

Salty's Sunday Night

(

Peppered

) -

Dusttale

-

Tails Gets Trolled

- Funkin' Physics -

Unified

Beats

-

Flip

Side

-

Monday Dusk Monolith

-

Times & Tribulations

-

Band Practice

-

With

Pa

ra

p

pa

-

Friendly Night Funkin

-

X-Ray

-

Friday Night Funkin: Bubbles' Tour

- FNF: Funkin' Nights at Freddy's -

Monika.exe

-

Friday Night Foundation

-

Friday Night Mashup

-

Friday Night Funkin' Pixels

-

Saturday Stuck in Soulstrike

-

Elegant Night Dancin'

-

The Weeg Mod

-

Entity

Origins

- Friday Night Funkin: Untitled Remixes -

Friday Night Funkin' -

A World of Our Own

-

Saturday Night

Swappin'

-

Arrow

Funk

-

Friday Night Flippin'

-

Friday Night

Funkin' Logic

-

Friday Night Fluffin'

-

Martian

Mixtape

-

Super Mario Bros. Funk Mix DX

-

Vs.

Arle

-

VS Mommy

Long Legs

-

Muddy Puddles

Funkin

New Week(s)

Vs. Whitty: Definitive Edition

-

Mid-Fight

Masses

(

Minus

-

Remastered

-

Genderbend

-

Rework

) -

Hazy River

-

Concert Conundrum

-

VS. Hex

-

Bob's

Onsl

aught

- Arcade Showdown -

Vs. Zardy

-

X-Event

-

Starlight

Mayhem

- QT Mod - Friday Night Funkin

Lullaby

- Vs. Dave and Bambi ( Golden Apple Edition) -

The Date Week

- Vs. Sans (Fuzz) - Holiday Mod -

CG5 Edition

- Sunday Night Suicide - - Vs. eteled - Plants vs. Rappers -

Pibby

Corrupted

-

Vs. Brightside

-

The Impostor Boyfriend Saga

-

Deep-Sea Date

-

Bikini Bottom Funkin'

-

V.S. NekoFreak

-

Night of the

Funky

Bot

-

Slime Showdown

-

VS Kris

-

31 Minutos

-

Banjo

&

Kazooie

-

Boss Rush

-

Sonic

Corrupted

Generations

-

Dusk Till Dawn

-

LUNAGAME.EXE

-

Matt Wiik 3

-

Mii

Funkin'

-

Derker Bluer Edition

-

Friday Night

Funkin' Windows

-

Vs Ridzak

+ Cybbr

-

Kepler Observation Unit

-

Hero's Journey

-

Demonic Duke-Out

-

Vs. MLG-Tan

-

Singe and Sear

- Friday Night Funkin': Unfinished Business: Vs. Adam - Trouble Double -

Pyro's Firey Friday

- Fruit Medley Mayhem - The Gacha Mod - Cultish - VS Fireboy & Watergirl - Maginage Matches - VS Tord Expanded - Vs. Punk Girl - Soviet Cartoons -

VS. Clip

-

Vs. Beepie

- Mario Pissing -

Internet's Down

- Funkin' at Freddy's + Afton - Vs. Bambi Strident Crisis - Vs Bamding - FNF: Popcorn Edition -

Starving Artist

-

Retaken Sanity

- Friday Night Sandboxin' The Squidward Tricky Mod - VS Ron: The Resurrection - Blast To The Past (Vs. FireIce) - Vs David - Fine Night Funkout - V.S Shard - Byte Funkin' -

Shinobi

Scramble

- Vs. Not Normal - Heart Attack Rampage ( Neonight) - Changed Mod -

Vs. The Boss

- Vs. Bob (SMG4) -

Confronting Yourself Mod

- Endless Cycles - Chaos Series - Cyber Sensation - Another Summer - Friday Night Postin' - Vs. Ambion Corrupt Frenzy - VS Stickman - Bad Luck QT - Fuckin' Funkin' W/Koi - Cookie Run Funkin' - Friday Night

Trepidation

- Vs. Pokemon - Skalloween Spectracle -

VS CHEEKI & Nirepa

- Friday Night Parasite - Friday Night Funkin': Personalized - Manny Edition -

MARATHON MADNESS

- The Fantrack Madness - Hortas Edition -

Exospheric Corruption

- Bambi's Funky Night - Hellscape -

Artistic Altitude

- DAMAGE WEEK - Friday Night Funkin' Web Rush - Bambi Gets Trolled - Vs. SpongeBob Media - Vs. Osan - The Mega Mogus - Cornflower Week - Wednesday's Infidelity - and why he ourple - Vs. Piracy Sonic - Ben's Adventure - FNF' Skeleton

Bros

- Friday Night Funkin': Pixel Peril - Scarlet Melopoeia - Phantastical Boundaries - Pluto's Reprisal
Remix
B-Side Remixes -

Neo

- D-Sides - B3 Remixed - C-Side Remixes - SiIvaGunner Rips - Unofficial SiivaRemixes -

Starcatcher

-

Hellbeats

- UpSide - Neonight's Covers - Blantados' Covers and Remixes - BeatStreets - Another Friday Night - RetroSpecter Remixes - Kamex Remixes - High Effort Minus Tankman- Absolute Rage Mashup - Friday Night Funkin': Crystal - Alpaca Remix
Reskin
Minus - Super Paper Mario -

GenderSwaps

- Amogus - Clay Mod - Expurgation High Effort 2.0 - Vento Aureo Mod - Sonic's Rhythm Rush - Eddsworld's Funky Beats - StickyBM Mod Pack - Friday Night Funkin': Summer Vacations - Friday Night Funkin': CoryxKenshin Edition - SugarRatio's Remasters - Friday Night Snartin' -

V.S Whitty

+ BF - Friday Night Funkin X Piggy - Brawl Stars Mod - Friday Night Defending - Steel Ball Run Mod - FNF: Carrot's Style - Brand New Funkin' - Rincewind University - Electro Funkin' - Your Turn to Die - Midori Mod - nicomon2007's Covers - Enraged Artist's VS. EddsWorld Mods - ONLINE VS. Style Tomsworld (Flexture) - Funk! Miss Tamara - Plant's Night Funkin' -

OpheeBob

- Monday Night Madness - The Monstrosity of Experiments - Psychiatric Funkin' VS Tom Oliver -

Monster Version

Funny
FNF but Bad - Friday Night Gunnin' - Lomongus Mod - Friday Night Funkin': Up Arrows Only - The Impossible Trio Chart - Memeverse - little man 2 please play right now
Other
High Effort Ugh - Golf Minigame - ONLINE VS: ( Challenges) -

Vs Mario (FFG291)

- Vs. Banana And Coral - Vs. Shantae
Modding Engines

Psych Engine

-

Kade Engine

-

Mic'd Up

-

Modding Plus

- UFNF Engine -

Yoshi Engine

Cancelled
ENTITY -

Funkin' With Dalia

- BAMBI'S PURGATORY